eFootball Gameplay Trailer Analysis: A Step Up, But Many Questions Remain The last time we saw
eFootball
it was anything but pretty. From the Siri-like VO to the ugly color scheme,
eFootball
's start was the equivalent of an own goal. This time, Konami is back with a new gameplay trailer
unveiled at Gamescom
. Let's see if the trailer lived up to the hype.
eFootball Gameplay Trailer Analysis​
Overall Impressions
Before we get into the details from the trailer, let's talk about the trailer in general as a marketing tool used to create hype for the game. In this respect, it's an extremely poor trailer. First and foremost, the blue and yellow color scheme is atrocious and distracting. Furthermore, the font selection makes the text very hard to read. Speaking of the text, whose decision was it to put walls of text throughout a gameplay trailer? We're trying to see actual gameplay and graphics, save the text for your website.
Graphically the game looks confusing. There are times where the graphics and level of detail look really sharp leading us to believe they were captured on next-gen consoles, but then other times it's obviously mobile graphics. You can see the variations in the pitch textures and how the players, particularly Andres Iniesta, skate all over the pitch. The differences in lighting and shadows are usually a dead giveaway when it comes to what console/device these were captured on. Even things like wording on general topics such as "Tricking the Defender" or (my favorite) "Sharp Kick" are just downright odd.
PES
suffered for years from poor Japanese-to-English translations, so this is not shocking, but it still feels like such an easy thing to correct. Certain clips, such as Rashford's dipping shot, are shown multiple times and there's a few carryover clips from the previous trailer that was released nearly a month ago. From a production standpoint, this is a long way off from the high quality trailers and previews we used
to see from Weedens
.
Now that this is out of the way, let's break down the key features on display.
Note: Elements with an asterisk next to the title denote that it will be available post-release.
Controlling The Ball Touch
Once you overlook the fact that Andres Iniesta is skating past defenders with no semblance of foot-planting, this is one feature that
PES
has historically excelled at. The freedom of the ball and ball physics were there in
PES 2021 Season Update
, even if certain Data Packs threw your first touch out of whack. I personally didn't think this was something that Konami needed to focus too much attention on, but refinement is never a bad thing.
If we ignore the mobile-capture gameplay, the deft touches showcased by Iniesta and Kubo looked good showcasing that you don't need to rely on tricks to beat defenders 1 vs. 1. PS5 DualSense haptics won't be ready for release but will be added at some time.
Tricking The Defender*
Another highlighted feature that Konami was already pretty adept at is "Tricking the Defender." Some of the feints pulled off by Neymar do look very nice, even if graphically they looked washed out. Football games in general need more emphasis on feints as opposed to tricks, and it looks like. Konami is taking it to the next level. Konami on its website highlights:
"With greater freedom to control how the player will trap the ball, each play becomes a mind game."​
It's a little odd that a feature such as greater freedom will be available at some point post-launch, but as you'll soon see, this is a running theme with this trailer.
Steal The Ball And Create Chaos
To counter the attacking improvements in 1-on-1 situations, Konami looks to have implemented "a slew of defensive maneuvers" aimed at anticipating passes and shots as evidenced by Barca's Ansu Fati sticking out a leg to intercept a pass from Bayern's Niklas Sule. Heightened awareness would be a huge addition to
eFootball
as one of the biggest legacy issues with the franchise has always been a lack of awareness in reacting to certain situations.
If you've played
PES
recently, you'll still see these situations rear their ugly head, especially when playing on no-assist passing. But it creates an interesting dilemma with those who leave and breathe the idea of a skill gap. There used to be settings in
PES 2021
and earlier games to allow you to customize how much assistance you wanted for things like auto-blocks, so I'll be paying close attention to the competitive crowd to see how they like this new enhancement.
Physical Battles
It took nearly two minutes of trailer time for me to find the first gameplay clip I really liked, but then it only took a matter of seconds to turn my smile upside down. The initial clip showcases a really nice tackle animation by Bayern's Upamecano.
He uses both his upper body and lower body to shield the defender, while also stepping across to make the tackle and shield the ball. Just as quickly, the next clip showcases a shielding animation.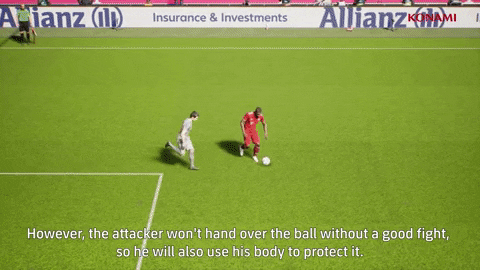 My issue here isn't so much the shielding animation — as it looks solid — but the way the incoming player bounces off the Bayern defender as if there's some invisible force field as he quickly slides back into a running animation. If the goal is realism, then in today's game Upamecano would have toppled over and drawn a foul. In the end, the outcome is right, but the way Konami got there could improve.
Performing A Sharp Kick*
I've been playing and watching soccer for a long time. Not once in my travels have I heard the term "Sharp Kick" but nonetheless here we are. I mentioned this before, but one of Konami's strong points has been ball physics. The ball in
PES
looks, feels, and behaves like you would expect. Why this new feature is being touted is beyond me as it seems like something that could easily be implemented in the case of Pique's pass over the top, or already exists in the case of Rashford's dipping shot.
Rashford's shot is beautiful, but it's one that I can pull off now in
PES 2021
with players who have that trait. Pique's pass looks nice, and that would be even more true if this were a golf game because there is a perfectly weighted lift to the pass. Apart from that visual effect, it's nice that Konami mentions you need "time and space" to perform these maneuvers. While EA struggles to find the balance between responsiveness and realism, Konami recognizes that for certain types of actions you need the requisite variables if you want to pull off a sharp kick.
You'll just have to wait until after release to do so.
Focus On 1-On-1 Duels
Both
FIFA
and
PES
seem to be all about creating 1-on-1 situations, and I get it. Pep Guardiola said, "It's my job is to take you up to the last third, your job is to finish it," and that speaks true for today's modern game.
Fitted in what looks like Xsens motion suits, Iniesta and Pique lent a helping hand to Konami for this one with the help of a new "Motion Matching System" that "evaluates the ball, movement speed, body direction, physical ability, and more in real-time to affect the movement of every player." I'd love to hear more about this new Motion Matching System, but for now I take great comfort in reading how the foul system has been improved. I actually don't have a huge issue with the number of fouls in
PES 2021 Season Update
, it's more so the one's that aren't called when the contact is obvious, especially in the penalty area.
If
eFootball
improves on that, it's a nice gameplay update, even if it's long overdue.
Enhanced Team Play Styles And New Controls
On the surface, enhanced team play styles sound good as
PES
' tactical system was overly complicated with too many layers that didn't mix well together — and even caused some legacy issues due to how strict the players would adhere to them. From the screenshot above, it looks like some have been removed while an "Out Wide" tactic has replaced the "Hug the Touchline" advanced instruction.
It's nice that Konami has taken a look at tactics but removing them, especially when the mobile game already utilized the same tactics, is an odd choice. The blue tactics background screen is also a weird choice. In this section of the trailer, we are treated to the best snapshot of what gameplay will look like, although it's unknown what defensive tactics are included and what difficulty the game was shown on. The small passages of play we did see looked like the
PES
we're used to and some nice animations were on display, such as this nice control and pass by Arsenal's Odegaard.
A New Camera: Duel
So apparently the camera from Konami's Online Performance Test, which was also used in
PES Mobile
, is the new camera du jour. This camera zooms in to capture 1-on-1 scenarios, yet zooms out when needed so you can see more of the pitch. As long as there are options to change the camera, I won't ding Konami too much on the new camera. However, as someone who hasn't played the mobile version, I just hope that the camera, specifically the pans, can keep up with the ball — something that used to plague the
PES
series.
General Improvements
Here Konami highlights several improvements:
Motion Matching System
Enhanced Ball Physics
Seamless Restart System
All of these improvements sound good, and they look good in the trailer. I really like the quick start goal kick highlighting the Seamless Restart System, as seeing the system go black while loading when the ball goes out of play is something Konami should have stamped out a long time ago. Ball physics were strong in
Season Update 2021
but could always use some refining. Konami doesn't give too many details regarding this Motion Matching System, but if it helps to create smoother animations with better branching then I'm all for it.
Bottom Line​
Overall, this trailer is an improvement upon the originally released video. It's still by no means a good selling point for loyal
PES
fans or those who secured a next-gen system and are curious about the other soccer game. Additionally, not many new details were released as we're yet again left with more questions than answers. Konami did release a tweet that stated more information, such as game modes, licenses, and release timing will come in September. However, with September right around the corner, all signs point towards the game not being ready yet.
If this is indeed the case, it would be wise of Konami to get out in front of this now and offer some semblance of transparency. Upgrading to a new engine on new consoles during a global pandemic is a huge challenge, and it's certainly understandable if there are issues. Plenty of other games and even console production have been altered as a result of these issues. With the bad PR
eFootball
is receiving, a botched release will do little for the series if the goal is to put a dent in
FIFA
. For now though, all we can do is sit back and wait for more information.
Did this trailer help or hurt your excitement level for eFootball?
The post
eFootball Gameplay Trailer Analysis: A Step Up, But Many Questions Remain
appeared first on
Operation Sports
. Kevin Groves
https://www.operationsports.com/efootball-gameplay-trailer-analysis-a-step-up-but-many-questions-remain/